Editable animations inside Premiere Pro – get excited about Motion Graphics Templates!
Have you heard of Motion Graphics Templates (MOGRTS)? Well, if you're a video editor then things have just got very exciting inside Premiere Pro!
Finally you can edit animations, created in Adobe After Effects, directly inside Premiere Pro – and you don't even need to have After Effects installed on your machine!
Perhaps you're a devoted Premiere user and After Effects seems a little daunting, even with the profusion of easy-to-edit templates out there. Or, you're simply fed up of switching between the two applications when creating your graphics-laden video productions. This is where the new Motion Graphics Templates (.mogrt) come into play.
---
What are the benefits of Motion Graphics Templates?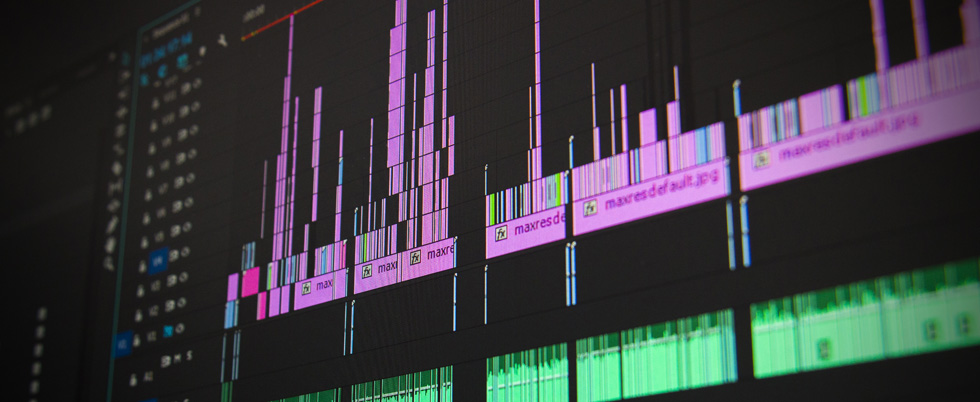 MOGRTS simplify the graphics workflow for Premiere Pro users.
---
Apart from the fact you can edit amazing animations directly inside Premiere, another huge benefit of Motion Graphics Templates is that you can use a single template to create multiple versions of an animation, simply by duplicating it on your timeline.
---
Motion Graphics Templates make life easier for Premiere Pro users without the knowledge or access to After Effects.
---
Let's say you've installed a stunning lower thirds template into your Essential Graphics panel (see How to install a MOGRT file, below). By dragging and dropping the template onto your timeline you essentially create one 'instance' of the sequence.
Dragging it again, to another part of the timeline, creates a second instance which is uniquely editable – so each instance can include different settings and content.
In the case of lower thirds you're able to create a limitless number of separate graphics, with different names, from the same template.
If the template has custom options for color, position, animation style or background image, for example, every one of your timeline graphics can have a separate visual appearance.
---


The flexibility of Motion Graphics Templates means you can create multiple, unique graphics from the same MOGRT file.
---
For beginners and professionals alike
Motion Graphics Templates are perfect for Premiere beginners as they are extremely intuitive and the control options are a piece of cake. Also, advanced users of Premiere can save valuable time with the ability to add and edit professional, animated graphics to their workflow, quickly and easily.
---
What exactly is a MOGRT template file?


MOGRT files are self-contained, and include all the assets and settings from After Effects.
---
So, what are these incredible new .mogrt file types?
A single, self-contained MOGRT template file contains everything that was used to create the template in After Effects. This includes all the applied settings and property adjustments as well as any external assets such as images and video clips.
---
MOGRT files are powerful, self-contained template files which allow Premiere Pro users to add, duplicate and edit complex animations with ease.
---
The file also retains any effects used, such as particles and transitions which, if settings have been provided, allows the end-user to customize these effects inside Premiere.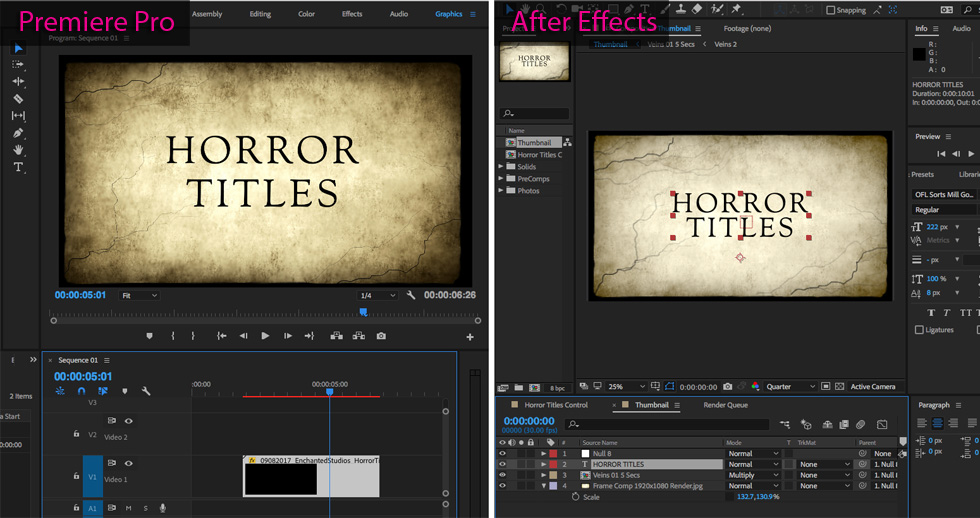 The sequence looks exactly the same in Premiere as it did in After Effects, where it was created.
---
How to install a MOGRT template file
You may have noticed the new Graphics menu options in Premiere Pro. These bring up the Essential Graphics panel and it's here where you get to choose and edit any installed Motion Graphics Templates (.mogrt).
To install a .mogrt template simply choose Graphics / Install Motion Graphics Template from the main menu or click the Install Motion Graphics Template button at the top of the Essential Graphics panel.
---


The 'Install Motion Graphics Template' button in Premiere Pro's Essential Graphics panel.
---
That's it!
A shiny new Motion Graphics Template is ready to be applied to your video production.
Download our free MOGRT template file to try this for yourself :
Download our free MOGRT template
---
How to use Motion Graphics Templates
The beauty of Motion Graphics Templates is that they are specifically constructed to be easy to use. Complex After Effects settings and variables have been distilled into simple sliders and checkboxes.

The designers of these templates have purposely restricted the scope of control to the fundamentals, thus eliminating the potential for adjustment errors which can sometimes plague After Effects templates.
---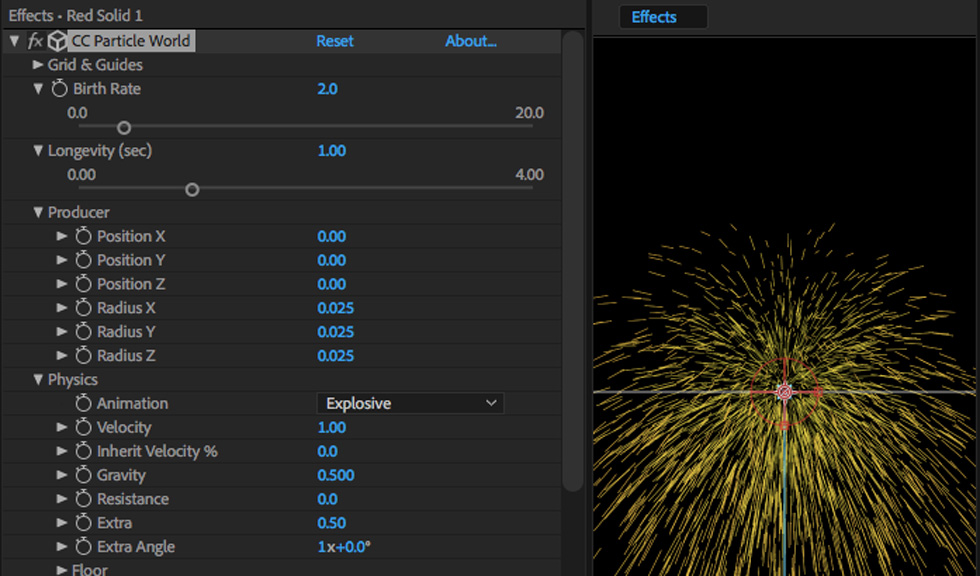 Many settings of an After Effects effect are rarely used. Motion Graphics Template designers cleverly distill these options down to show only the primary, editable properties.
---
Within the Essential Graphics panel in Premiere Pro you'll see, at the top, 'Browse' and 'Edit' options.
Under 'Browse' you'll find a list of your currently installed MOGRTS. Simply drag and drop one onto your sequence timeline, as you would any other video or audio clip.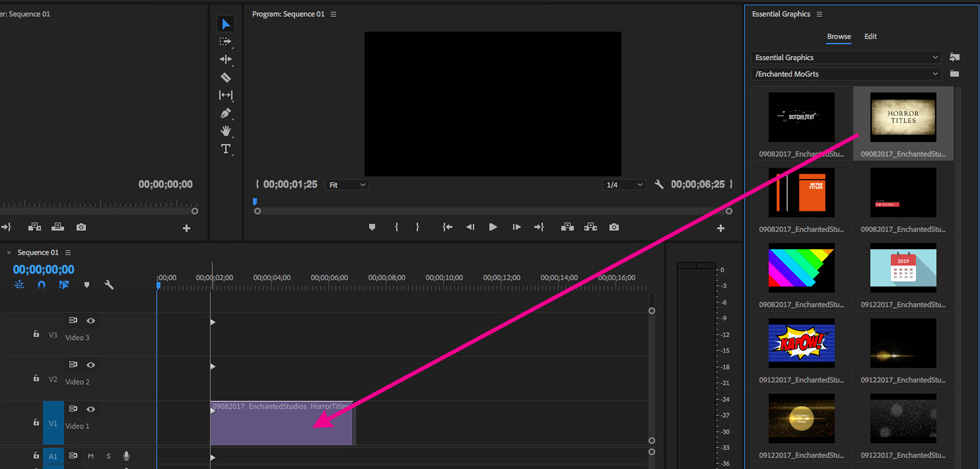 Simply drag the template thumbnail into a Premiere sequence Timeline to create an instance of the animation.
Clicking the newly created clip in the timeline automatically displays the 'Edit' area within the Essentials Graphics panel. It's here where you get to change the content and appearance of your animated graphic.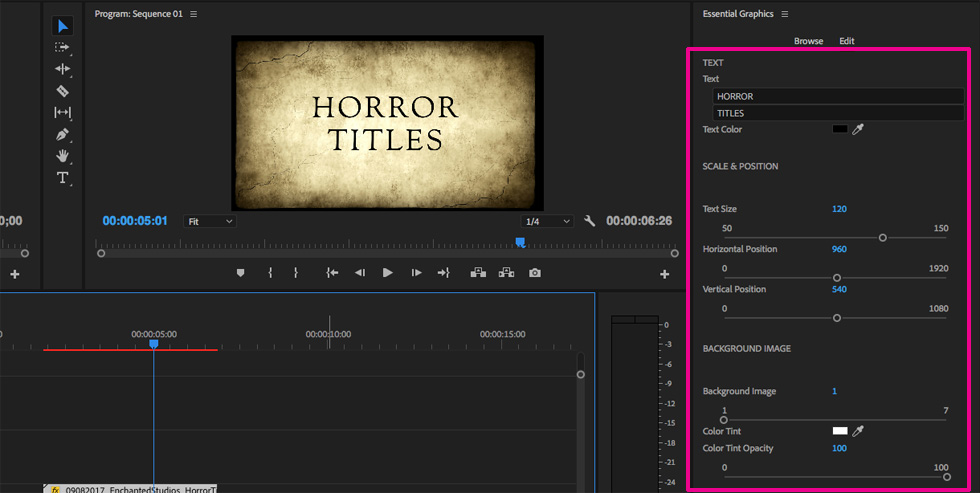 Controls such as color, size and position are shown in the Edit area of the Essential Graphics panel.
---
Finally you should play your graphics clip to see if it requires trimming (start and end points).
To add another you can either duplicate your newly edited graphic, thereby duplicating all adjustments too, or create a fresh graphic by dragging from the Essentials Graphics panel once more.
Repeat as necessary!
---
The future of MOGRT templates
Motion Graphics Templates have a great deal to offer, for both video editors and animators alike.
The ability to add high quality, customized animations on-the-fly, within your favorite editing software is bound to inspire some new and fantastic video production techniques.


Will this new ability to edit animation in Premiere give birth to new, creative video editing styles?
---
One thing's for sure we're just at the beginning of a very exciting, symbiotic relationship between After Effects and Premiere Pro. Surely confirming Adobe's long-term commitment to creative video production tools.
At Enchanted Studios we're embracing the MOGRT right now and have begun creating a variety of MOGRT files for Premiere Pro. Whilst we put the final touches to our files, please let us know if you have any specific wishes for future templates!
Meanwhile why not download one of our free MOGRT template files, so you can experience for yourself this incredible new addition to Adobe's creative video production toolset.
---
Share this valuable info with someone!
---
Save
Save